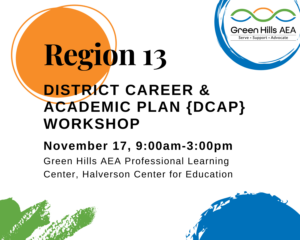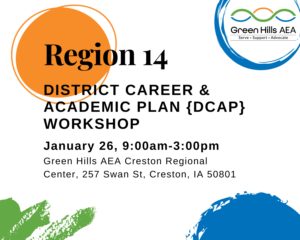 Your District's DCAP team is invited to participate in one of the upcoming DCAP Workshops organized by Green Hills AEA CTE. These workshops are a valuable opportunity for your team to gain comprehensive insights into the development of your District Career and Academic Plan (DCAP).
Conducted in collaboration with Eric Woods-Schmitz from the Department of Education, these workshops have been designed to provide practical guidance and support to districts in their planning processes. They will be held in person at Green Hills AEA offices, located in Council Bluffs and Creston.
During these workshops, we will concentrate on guiding teams through the DCAP template, enabling them to gain an understanding of the Essential Components, and facilitating discussions within your district. Our goal is to ensure that your team has dedicated time to initiate the development of a robust and effective plan that aligns with your district's objectives and challenges.
Please ensure that your District's DCAP team is enrolled in one of these workshops to make the most of this opportunity for professional learning and collaborative development.
To register your team, click here, or for any further inquiries, please feel free to reach out to us via cte@ghaea.org. We are more than happy to assist you throughout the registration process and provide any additional information you may require.
We look forward to welcoming your team and contributing to the enhancement of your district's educational initiatives through this collaborative learning experience.