From Surviving to Thriving
Join Green Hills AEA as we shift the focus of our annual symposium from student social-emotional learning to educator well-being. We are so excited to provide this opportunity for our districts and community members! The $50 registration fee includes admission to all keynote and breakout sessions for both days, lunch tickets for both days, and a swag bag including "TAKE CHARGE! A Workbook to Enhance Well-Being With the Eight Dimensions of Wellness".
Keynote Speakers

Ali Hearn
Ali Hearn is a national keynote speaker, trainer, and coach whose mission is to shift mindsets and ignite fires within others to create sustainable change and impact. Her keynote speech will share an introduction on restorative practices as they relate to educator well-being, culture, and climate in a school building, and on how to implement them.
Laura Lee Summers
Too often, educators sacrifice their own well-being in support of others. Burnout and teacher attrition has continued to increase since the pandemic. An integrated focus on the eight dimensions of educator wellness supports the whole educator and transfers to a more equitable and caring school culture. Laura Lee Summers, Ph. D., will share practical strategies for practice as participants set goals to support their own well-being. We will also explore how to foster wellness practices within our schools, organizations, and community for the benefit of all our students. Dr. Summers is a clinical associate professor at the University of Colorado-Denver where she is the program leader for the Learning Design & Technology graduate program which includes the Teacher Librarian endorsement, Leadership for LDT certificate, and the Leadership for P12 Libraries certificate.
Breakout Sessions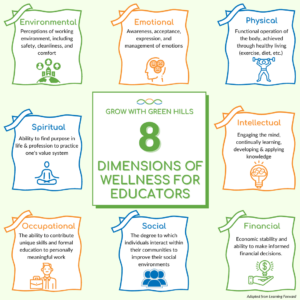 Participants will be able to select breakout sessions to attend based on the 8 Dimensions of Wellness for Educators.
Registration
Register for the Conference Now!
Families and Community members wishing to attend, please contact Amy Liddell.
Nominate Someone for the Annual "Be The One" Award
THANK YOU TO THIS YEAR'S SPONSORS